How easy is it to assemble Oko packaging?
Oko packaging comes flat-packed and is very easy to assemble.
What is a BioPbs barrier?
Oko packaging is an earth-friendly, 100% biodegradable and recyclable packaging that replaces single use plastics. The internal liner of Oko boxes is coated with watertight, food friendly, plant-based BioPbs barrier, a polymer extract which is used as a liner membrane to seal. It is odour free.
Do you have a price list?
How quickly will my Oko boxes arrive?
We generally dispatch between 7-10 working days.
We use quick shipping methods but if you would like a refined delivery date, drop us an email.
How can I become a distributor for Oko packaging?
We welcome new members who are keen to advance our Oko products. Contact [email protected] and fill out our distributors form and we will get back to you.
Does Oko have a better insulation?
Yes, up to 3 x better insulation, which means your customers will receive hotter food and drinks, less complaints, better delivery and happier customers.
Why should I change my packaging to Oko?
Plastic is poisoning our oceans, water supply and land. We only have one earth and collectively as countries and communities we should work together to combat the menace of plastic pollution.
Oko has better insulation.
Oko looks premium and eye catching.
Oko is microwavable.
Oko is very strong with our patented V-Strong Flute technology.
Oko is competitively priced.
Oko is non-toxic and nature safe.
Oko is compostable & recyclable
Oko has custom branded sleeves
Oko tells your customers that you actually care about the planet.
Will Oko boxes leak?
No, Oko boxes don't leak because of our unique internal biodegradable, food friendly, watertight barrier. Our layer pad system is also great for preventing spillage.
How long does Oko take to compost?
Oko boxes compost within 180 days.
How strong is Oko?
Oko has better strength due to our patented V-Strong Flute technology, insolation and eco-friendly properties.
What temperature does Oko withstand?
Do you have a small container for liquids?
The smallest size is our ST250 ml. Join our Oko newsletter to keep up to date on new box sizes and the latest Oko products .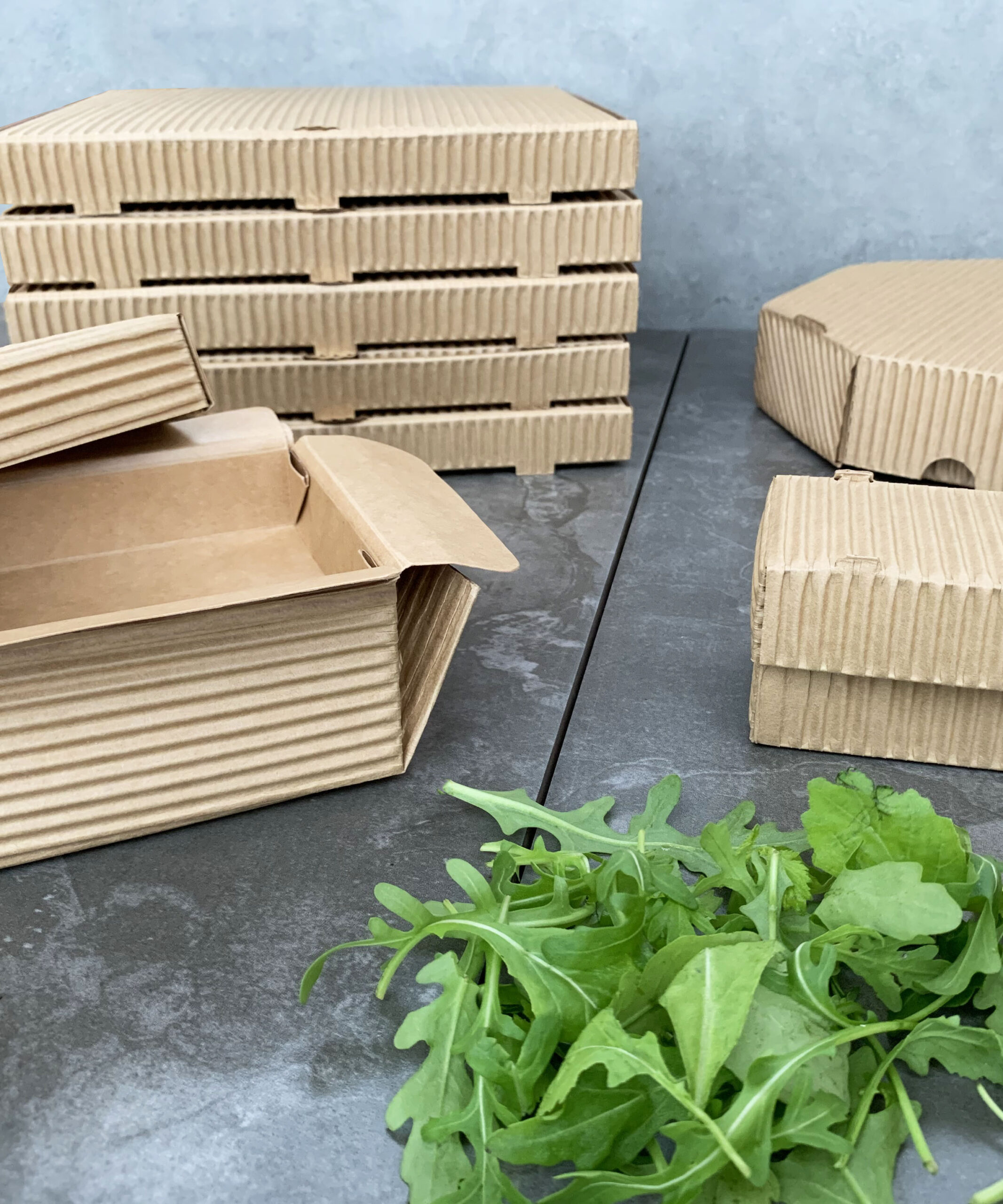 DO YOU HAVE SMALL CONTAINERS (70ML) FOR LIQUIDS?
The smallest size is 300ml, join our Oko newsletter to keep up to date on new box sizes.
ARE OKO PRODUCTS AIR TIGHT?
No not currently, soon maybe. Follow us, get frequently updated.