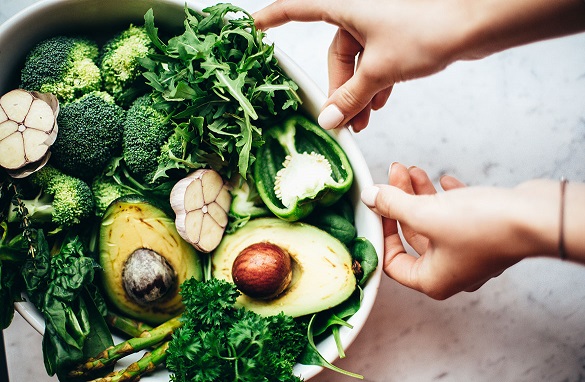 What makes green packaging relevant in leading a healthier lifestyle?
"Our food should be our medicine and our medicine should be our food. "
– Hippocrates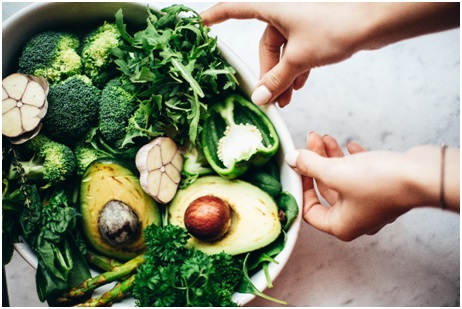 Why do we require nutritious food?
Nutrition is essential for our body and its vital functions. It is critical to eat a well-balanced diet rich in all nutrients to avoid nutritional deficiencies and hormonal imbalances in the body. Nutrition is also important for boosting immunity and giving our body the ability to fight various diseases.
Healthy eating has the following advantages:
Maintains our immune system in excellent condition
Postpones the effects of aging
Provides energy
Keeps the heart-healthy
Good nutrition boosts our mood & well-being.
Working from home – choices you make around your diet
Apparently, it seems working from home provides unparalleled control over one's diet on the surface. Not only does one have control over his schedule, but also close proximity to their kitchen. What potentially could go wrong with the best of both worlds available? In a nutshell, everything. Working from home, understandably, provides a lot of freedom, but without societal norms and cues from other co-workers, it is easy to become a feral beast and just graze on oily cheese puffs indefinitely.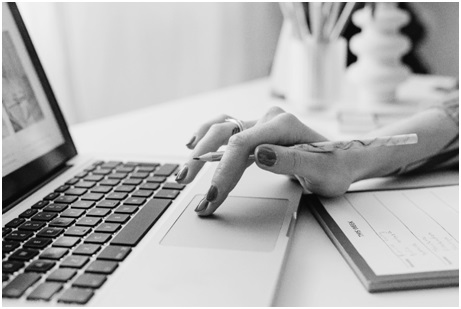 In these unprecedented Covid times, most of the professionals are working from home. The boundaries between office and home have blurred. Amidst meetings, calls, reviews, and discussions, the last thing which comes to mind is cooking meals, thrice a day. Professionals lead very busy lives with little time to eat, but a nutritious meal packed in the non-toxic packaging can make a significant difference in their energy levels and overall well-being. While juggling work deadlines and numerous calls, a smart workaround would be to fix lunch by having a nutritious salad. A quick phone call to a nearby deli yields a plethora of salad options.
A fast-casual dining
There is a plenty of healthy options available for takeaway salads. Aside from local delis, chains such as Subway, Sweet Green, Just Salad and others, all these companies are assisting people in embracing the concept of making healthy food fast on the cheap, all the way down to the drive thru. A healthy lunch should be packed in aesthetically pleasing packaging that is hygienic, made of unbleached paper, non-toxic, contains no plastic and is biodegradable. In terms of ingredients, the vegetables should be delivered daily, so one is not getting food from cold storage that has been sitting there for a month. This fast-casual dining represents a cultural shift toward more nutritious, vegetable-heavy meals.
Prioritizing both – health & sustainability
When it comes to food, far too many people separate health from sustainability. In fact, these two concepts are inherently intertwined. Unintended consequences for protection of our planet may arise when healthy food is not sourced, packaged, or shipped with sustainability in mind. Consequently, if we do not incorporate sustainability into our food-related decisions, we may struggle to maintain a healthy diet in the future.
Recycled packaging material
Recycled packaging is one of the most effective methods of extending the life of previously used packaging materials. Consider purchasing recycled packaging or packaging made of recyclable material when buying corrugated boxes, food containers or courier bags. These boxes should be visually appealing, easy to transport and simple to open with bare hands. Furthermore, the packaging can be printed with a variety of designs and brand owners can hold a multitude of contests to entice customers. A simple note on tertiary packaging material stating that the packaging is recyclable, can significantly improve a brand's perception in the eyes of the customer.
Oko-non-toxic packaging for salads, vegetables & fruit
Oko is the ideal packaging for every type of salad – with or without dressing, in a variety of sizes. Vegetables, fruit, and eggs are perfectly suited to Oko's fresh produce boxes. These are made from earth-friendly and natural materials that are hygienic, environmentally friendly and aesthetically pleasing.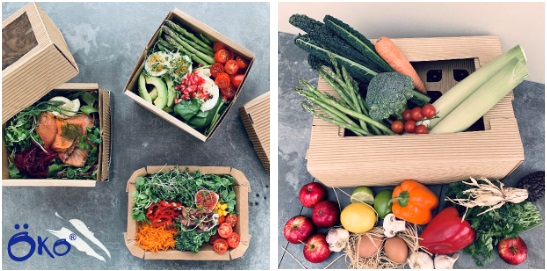 Oko salad containers & fresh produce boxes
Your food habits reflect your persona. If you value health, nutrition and hygiene, switch to choosing home compostable materials, biodegradable solutions and zero plastic food containers today.