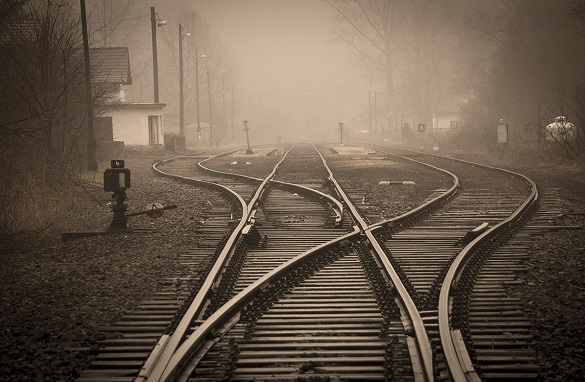 Sweet Memories Of An Indian Rail Journey… A Foodie Trip From Bangalore To New Delhi
"You don't need a silver fork to eat good food."
– Paul Prudhomme
Before I start writing about my Bangalore to Delhi food trip, let me begin with a flashback, just as old movies do.
1998
I am Gaurav Khattar and this is my travel story. More than two decades ago, I was a frail-looking adolescent who had enrolled in an engineering college in Bangalore, a city 2400 kilometers from my hometown of New Delhi. Those were the days when Google was not born, cell phones were uncommon and were considered a status symbol, and the flights were prohibitively expensive.
Homesickness, coupled with my craving for home-cooked food made me travel to New Delhi frequently, despite the two-day tedious train journey. I couldn't afford the AC class, so I used to travel in the reserved non-AC sleeper compartment, where no meals were served. For food, I had to wait for several hours before the train stopped at one of the on-route stations.
After traveling a few times on this route, I observed that a few stations served special food items which were reasonably priced and were filling too. The only complaint I had was how these meals were packaged. At times, I had to hurry to get back on the whizzing train with a hot meal in my hands. It was not only difficult, but at times pretty risky.
Moreover, with bare hands, it was difficult for me to tear and open plastic packaging. If it weren't plastic, sometimes, the meals were wrapped directly newspaper, which was unhygienic. I had no choice but to accept all of these difficulties as a part of the process of maturing and gaining invaluable life experiences.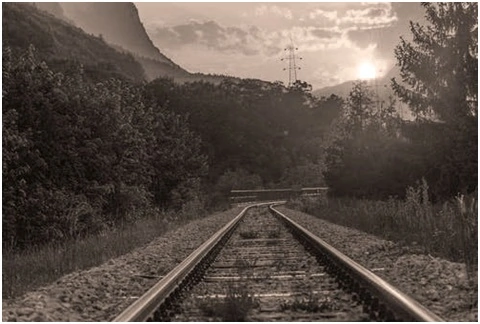 Train no. 12627 – Karnataka Express
The Karnataka Express (Train no. 12627) is a superfast train that operates on the Indian Railways 'South Western Zone. This train runs between Bengaluru City (SBC) and New Delhi (NDLS) daily.
It is a well-known train because it connects the South and the North. It is also known for being one of the most punctual trains in the country.
Timing and Distance
The Karnataka Express travels 2406 kilometers in 39 hours and 10 minutes. The train currently departs Bengaluru Junction at 19:20 hrs and arrives at New Delhi Railway Stations at 10:30 hrs on the third day.Back in 1998, the train started from Bangalore City railway station at 18.25 hrs.
It travels through several states including Andhra Pradesh, Karnataka, Maharashtra, Madhya Pradesh and Uttar Pradesh.
Stations of Interests
In the course of its 39-hour journey, this train makes about 33 halts. Some notable stations with interesting food options along the route are:
Dharmavaram – Bread omelette
Anantapur
Solapur – Pav bhaji and vada – pav
Daund – Biriyani
Ahmednagar
Manmad
Bhusaval – Fruit chaat
Bhopal
Jhansi
Agra Cantt – Chole bhature
Mathura
New Delhi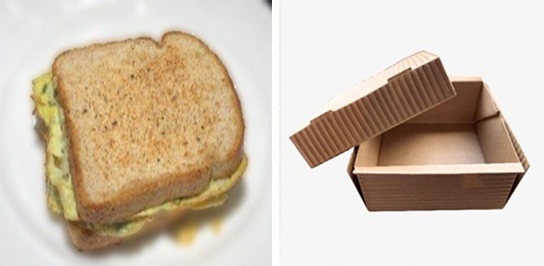 Bread Omelette and ST860
Dharmavaram, Andhra Pradesh
Masala omelette bread is one of the most convenient, inexpensive and filling meals to eat on the go. I recall the vendor quickly placed two loaves of bread and a hot omelette on a newspaper because the scheduled stoppage at Dharmavaram was only 2 minutes long. Perhaps it was here that I learned my first lesson in time management – juggling a hot meal between my hands, boarding a moving train and sometimes ignoring my personal safety while jumping back onto the train. If that wasn't enough, the vendor always demanded exact cash change. While chasing the speeding train, I really wished for the bread omelette to be packaged in a good, easily transportable box.
Solapur, Maharashtra
The Karnataka Express arrived at around 08.00 hrs the next morning in the neighboring state of Maharashtra, at Solapur. The train stopped here for 5 minutes only. As the train slowed at the platform, I would dash to the vendor selling hot vada-pav and pav bhaji, a delectable Maharashtrian dish.
The pav (flatbread) was served on a newspaper, while the bhaji (vegetable gravy) was served in single-use polyethylene containers. Salad and oily pickles were also combined and strewn on the newspaper. While chasing the train, the night lessons on time management were repeated. My biggest resentment was holding the hot meal in my hands while running after the sprinting train.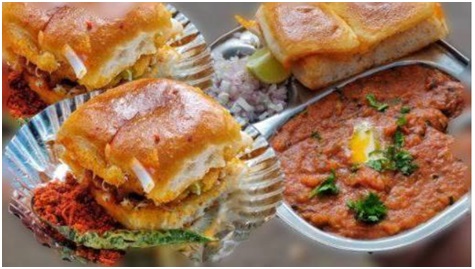 Pav bhaji and vada-pav

Daund, Maharashtra
Daund is famous for its special biriyani. Karnataka Express arrived at Daund station by 11.30 am, almost at lunchtime. Since the train stopped here for 5 mins only, vendors were ready with biriyani packets. With an exact change in my hands, I used to sprint towards one of the vendors. It took me less than a minute with my hands outstretched to grab a packet of biriyani.The next destination was a cola vendor. With noon sun on the head, it used to become incredibly hot in the non-AC bogie. Colas were served in plastic bottles that could be carried around, as opposed to glass bottles in the early 1990s.
As compared to the previous 2 mins stoppage, this 5 mins halt felt like an eternity. Within 5 mins, I was back in the train compartment, salivating at my delicious biriyani. However, it took me more than the next 5 mins to open the plastic cover of biriyani with my bare hands. I so much wished if there was some packaging thatI could easily open with my hands, as using excessive force could have spilled the contents in the moving train.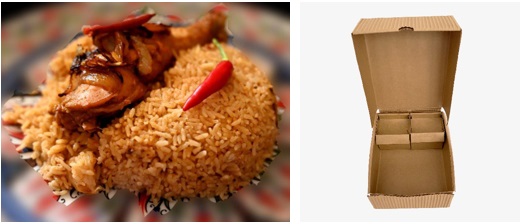 Biriyani and STA1700-2IP
Bhusaval, Maharashtra
The stretch between Maharashtra and Madhya Pradesh was always memorable because the train arrived in Bhusaval at around 16.00 hrs and the scheduled stoppage was for 5 mins. This was time to satiate my evening hunger. For those who are unaware, Bhusaval station sells ripe, delicious fresh guavas and oranges (brought from Nagpur), as well as a fruit chat (similar to a fruit platter sprinkled with rock salt). Again, the problem here was similar: the cut fruit was dumped in a plastic bag that was aesthetically unappealing, and usually, this single-use plastic packaging was mindlessly scattered along the railway tracks.

Fresh fruit and ST400
Agra Cantt., Uttar Pradesh
Agra is one of the busiest railway stations along this route. On the last day of the journey, Karnataka Express reached Agra Cantt. early morning. Apart from the famous Taj Mahal, what I loved the most about Agra was the greasy Chole Bhature served with oodles of pickle and chilly. This fatty flatbread with oil oozing from every pore was served on a newspaper, while the chickpeas with gravy, pickles and onions were packed in a plastic bag.
After a scrumptious breakfast and a scenic ride through the countryside, the train finally arrived at its final destination, India's capital New Delhi, which I referred to as "home". The long, yet delicious journey of almost two days finally ended tummy filled with cuisines from so many states.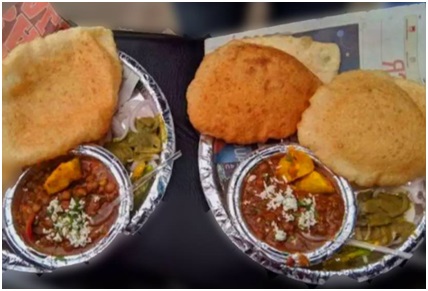 Chole Bhature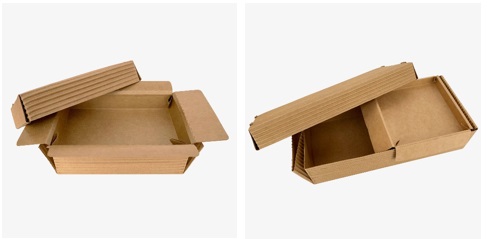 2021
The world has changed dramatically since 1998. Google, the internet, cell phones, and our increasingly connected lives have brought the world closer together. Things that were considered a luxury, are now ubiquitous.
Back then, other than the non-AC compartment, what bothered me the most was the cumbersome food packaging. I wished there was a product that would permanently solve my "time management" issues on train. Unfortunately, then, there were none, but now, Evirocor has emerged as a leader in green food packaging which offers a plethora of products to suit all requirements. All of these foods, from bread omelette, biriyani to fruit platter, all can be packed in environmentally friendly aesthetic packaging with biodegradable cutlery.
It seems time flew in a jiffy. But every now and then, I wish I could ride the Karnataka express again, like a carefree teenager, savoring the exquisite street delicacies and reminiscing about those bygone golden days of fun, frolic and laughter. The only difference would be that this time, the meals would be served in biodegradable Oko food packaging.